Practical Advice, Articles & Guidance
We are going through unprecedented times and understand that over the past week, many of us have transitioned to new ways of working at short notice.
In order to help support each other through these challenges and changes, we've pulled together some resources fro trusted sources on resilience, remote working, mental health, and wellbeing, alongside some sharable resources to help support you and your teams over the coming weeks.
We'll be updating the information on this page on a regular basis, so please feel free to get in touch if you have any resources such as blogs, videos or infographics you'd like to share.
Robertson Cooper have developed a free i-resilience report to reveal which of the four key components users naturally draw on for resilience – confidence, adaptability, purposefulness and the need for social support.
Find out more about your personal resilience needs and that of your team.
Remote Work Kit
Preparation for you and your organisation
Remote Tools has presented an article outlining the difficulties of remote work for those who have no prior experience and how we can adapt instantaneously and effectively.
Click to read
Crowdsourced Tips
Volunteers have come together to provide tips on remote working in this document. These tips range from providing online tools and applications which may help you, to educational links to help you and your family whilst working from home.
Download the brochure
Online Meetings, Facilitation & Events
This crowdsourced document hosts videos and guides on how to virtually facilitate sessions, host meetings, use online spaces effectively and tips on how you can successfully move to remote working.
Read more
How To Work From Home Without A Living Room Or A Comfortable Chair
Refinery29, the leading global media company focused on young women, have put together some helpful guidance for people who don't have access to a dedicated workspace at home.
Click to read on R29
Managing additional home working exposure
From Solace Business Partner, Zurich
With the current guidance on coronavirus limiting travel to and from workplaces, it's likely that more of us will be working from home more than we usually do, and for some it might be the first time. Whether you're new to this or a seasoned veteran, there are a few things we can all do to keep healthy and connected.
Download the brochure
Mental Health & Wellbeing
Mental health advice
Looking after your mental health
The Mental Health Foundation has worked alongside colleagues at Public Health England and the Department of Health and Social Care to create a guide to looking after your mental health during the outbreak.
Read more
Community action response
5 Tips to help your community
Eden Project Communities has joined forces with leaders from different sectors to launch their Community Action Response outlining how we can support our communities.
Download the brochure
Coronavirus & your wellbeing
Information & support
The mental health charity, Mind has released a wellbeing article including checklists for staying home, ways to relax and be creative, along with how to keep your mind stimulated through the outbreak. There is also further information on how to manage anxiety and claustrophobia through this time.
Read more
Mindfulness at Your Fingertips
The Anxiety & Depression Association of America's blog on 'Accessing Your Ability for Mindfulness in Times of Stress: Mindfulness at Your Fingertips' talks through how you can engage in mindful breathing/walking to reduce stress.
Read more
How are you today?
'Form' has created a useful poster so that you can take a moment, reflect and notice how you're feeling today. Take a look at these questions to practice taking a moment for your mental health.
Download the brochure
Looking after your mental health
A brilliant visual aid collating the mental health foundation's information on looking after your mental health by Hayley Lewis (@Haypsych) taken from social media.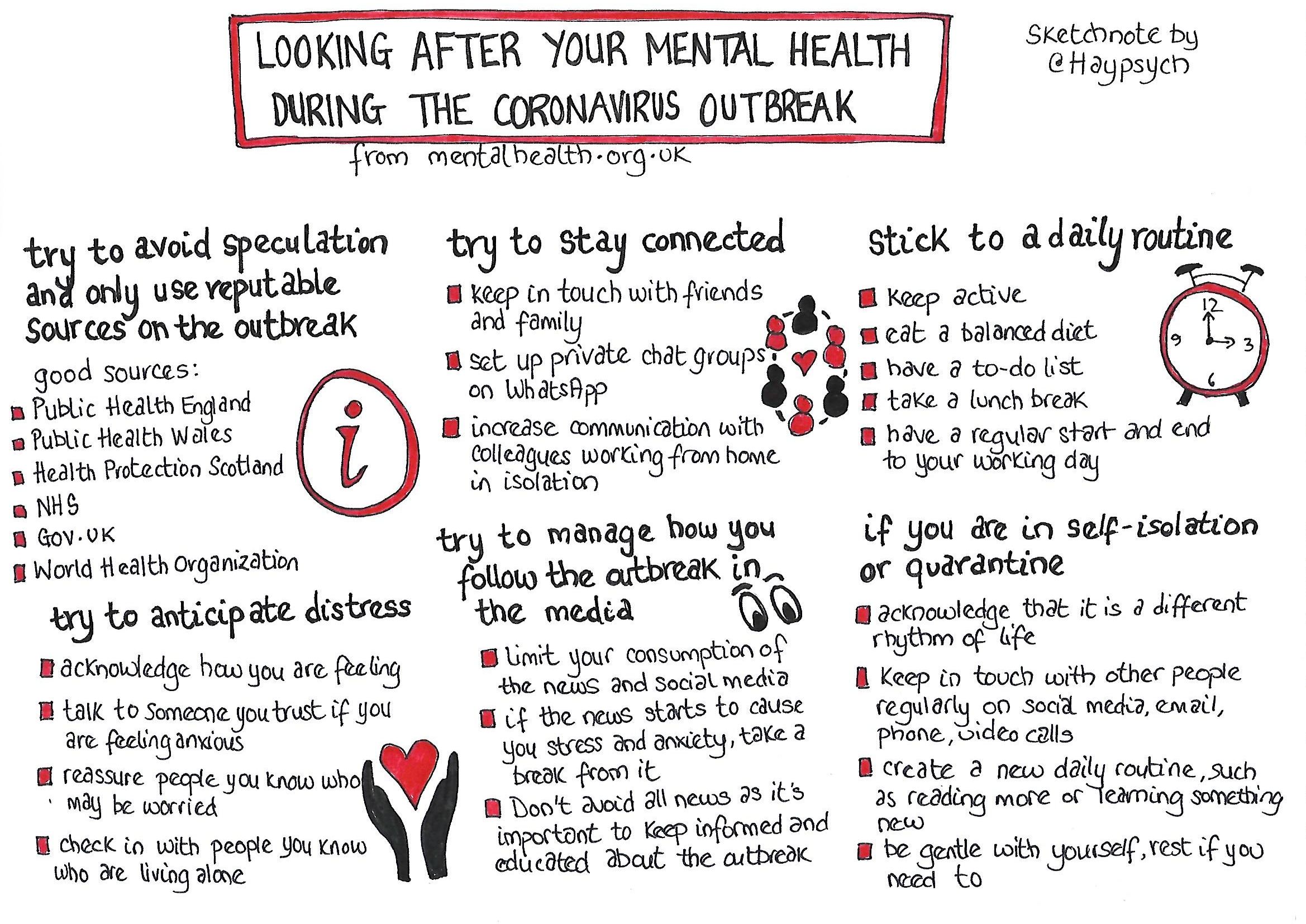 Community Action Response
A collaborative effort to promote positive differences within communities, to share this click here.
Postcards for your neighbourhood
'Viral Kindness' have created the following print out so you can help those close to you. To download copies, click here.
Shareable/Printable Resources
Your NHS Needs You!
NHS Volunteer Responders has been set up to support the NHS during the COVID-19 outbreak. To do this we need an 'army' of volunteers who can support the 1.5m people in England who are at most risk from the virus to stay well. Our doctors, nurses and other professionals will be able to refer people in to NHS Volunteer Responders and be confident that they have been matched with a reliable, named volunteer.
To register your interest, click here to be taken to the Good Sam site.
Ways to Help During the Coronavirus Crisis
We've put together a short guide for anyone wondering how they can help during the Coronavirus crisis.
Click here to download your copy, and feel free to let us know if you know of any other non-profits supporting the most vulnerable during the crisis we can help to raise awareness of.
A video from The Guardian
In this short video from The Guardian, Australian academic, psychologist and author Lea Waters discusses how altruistic behaviours are vital for our mental health as we come to grips both personally and as a society with the coronavirus crisis.
Click here to watch the video on The Guardian website.
Beyond COVID-19
Long-term Solace sponsor EY have published a report via their think tank, EYQ which provides some insights into the new normal that lies beyond the COVID-19 pandemic, and what considerations business leaders should factor into planning for the new normal today.
Download the brochure
Working Parents/Carers and Childcare during Covid-19 closures: Safeguarding Risks/Implications
It's vital to ensure that organisations are aware of all the safeguarding risks associated with distance learning and children in the workplace. We are here to help our customers who are affected by the impact of Covid-19 in these challenging times and have created this guide on some of the safeguarding risks and implications.
This content has been shared with us by Solace Business Partner, Zurich.
Zurich Risk Insights: The Cyber Dimension of the Coronavirus
Now is also the time to be vigilant against cyber-attacks. Since the beginning of February a five-fold increase in the number of cyber incidents has been noted, particularly in Europe. In addition to generating awareness the document aims to outline practical tips for companies and individuals on how to mitigate cyber risks in the current situation and beyond. Read the article here.
This content has been shared with us by Solace Business Partner, Zurich.